THE LATE MR JOHN WILLETTS

It is with much sadness that we have to report the death in early January 2017 of our Club President Mr John Willetts, of Tanworth Airedales. John joined our committee in 1991 and served as Club Treasurer from 1992 to 2014, and was President of the Midland Counties Airedale Terrier Club at the time of his death. The committee of MCATC would like to offer their sincere condolences to John's family and friends on his passing - he was a well liked and much valued friend to us all who put in a great deal of hard work and effort throughout the many years he was involved with the club and he will be greatly missed.

As many of you will be aware, John was due to judge the MCATC Open Show on Sunday 12th February. We are pleased to advise that Mrs Christine Keay (Jaymitch) has kindly agreed to be our judge on 12th February in his place.

Details of John's funeral will be posted here when they are available.

FORTHCOMING CLUB EVENTS & SHOWS
Open Show, Overseal, Derbyshire - Sunday 12th February 2017. Please note change of judge Following the sad and unexpected death of Mr John Willetts who was due to judge our Open Show - Mrs Chrstine Keay (Jaymitch) has very kindly agreed to be our judge at this show. Show Schedule and/or Entry Form are now available to download via our Results/Schedules page.
Results and pictures from our Open Show held on Sunday 20th November now available on our Results/Schedules page.
For more details on all of the above events and shows, please visit our Events page. Write up and pictures from our BBQ & Quiz on 4th September 2016 are now on our News page.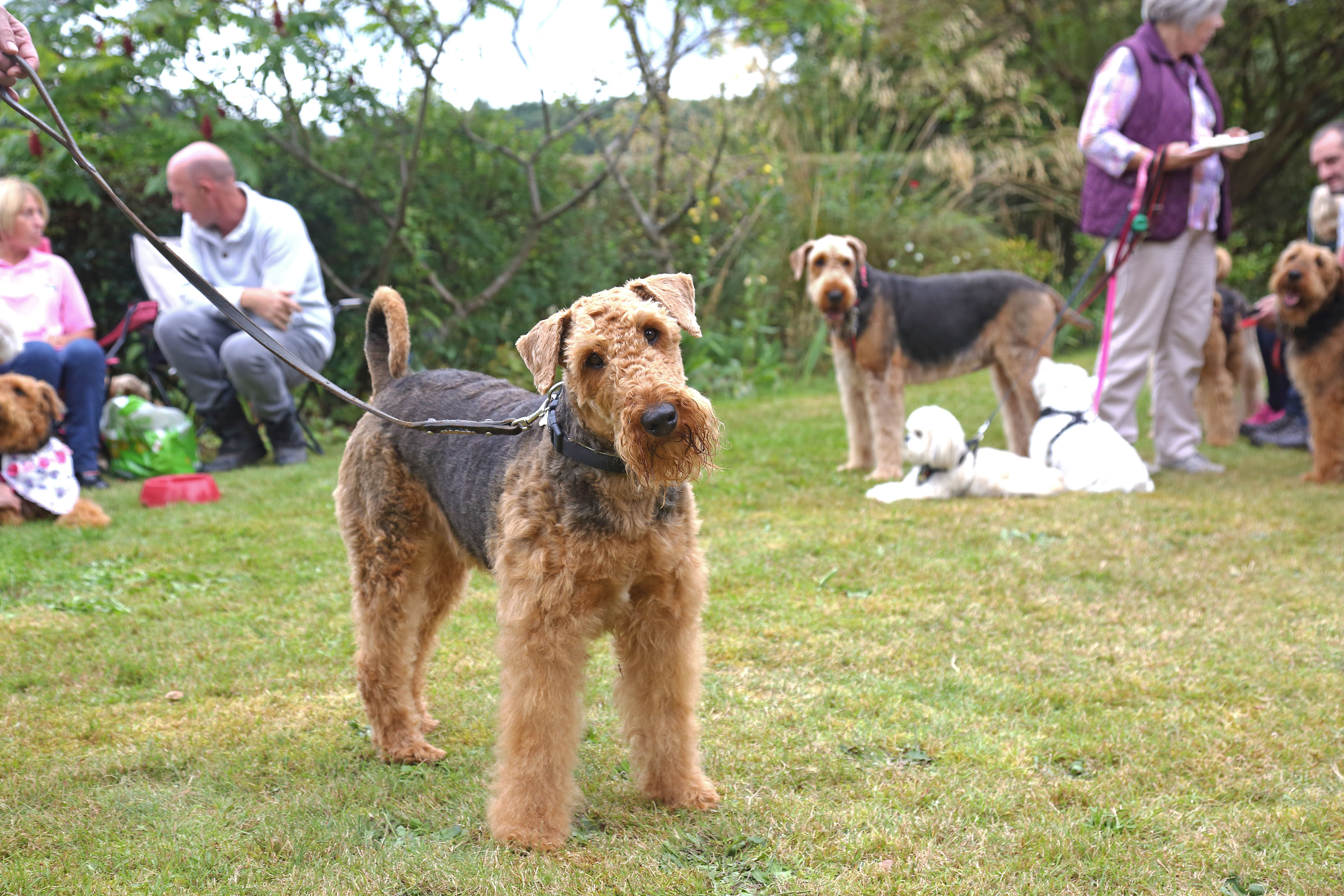 Did someone say beefburgers??? Lovely Oscar at our BBQ on 4th September. Photo courtesy of David Wilcock
PUPPY AWARENESS WEEK (PAW) - please visit the Kennel Club's Puppy Awareness Week pages to learn more about the best way to find a happy healthy puppy from a responsible breeder, and their campaign to end the cruel practice of puppy farming. If you are looking for an Airedale Terrier puppy, please always do your homework carefully and find a reputable breeder, preferably one registered with the Kennel Clubs Assured Breeder Scheme. Click here for more information
SUBMISSION OF JUDGING CVS
If you judge Airedales and would like to be considered for inclusion on our judging list, then please submit your CV and complete a judging questionnaire via our Contacts Page
DOGS LEFT UNATTENDED IN CARS - an important reminder from the Kennel Club which is particularly timely during the summer months, but which is important throughout the year, as even on what may seem like cooler days cars can still heat up very quickly. Please click here to read The Kennel Club's press release and click here to view a very informative short video warning of the dangers of leaving dogs unattended in cars - entitled 'Don't Cook Your Dog'.
© Midland Counties Airedale Terrier Club 2017