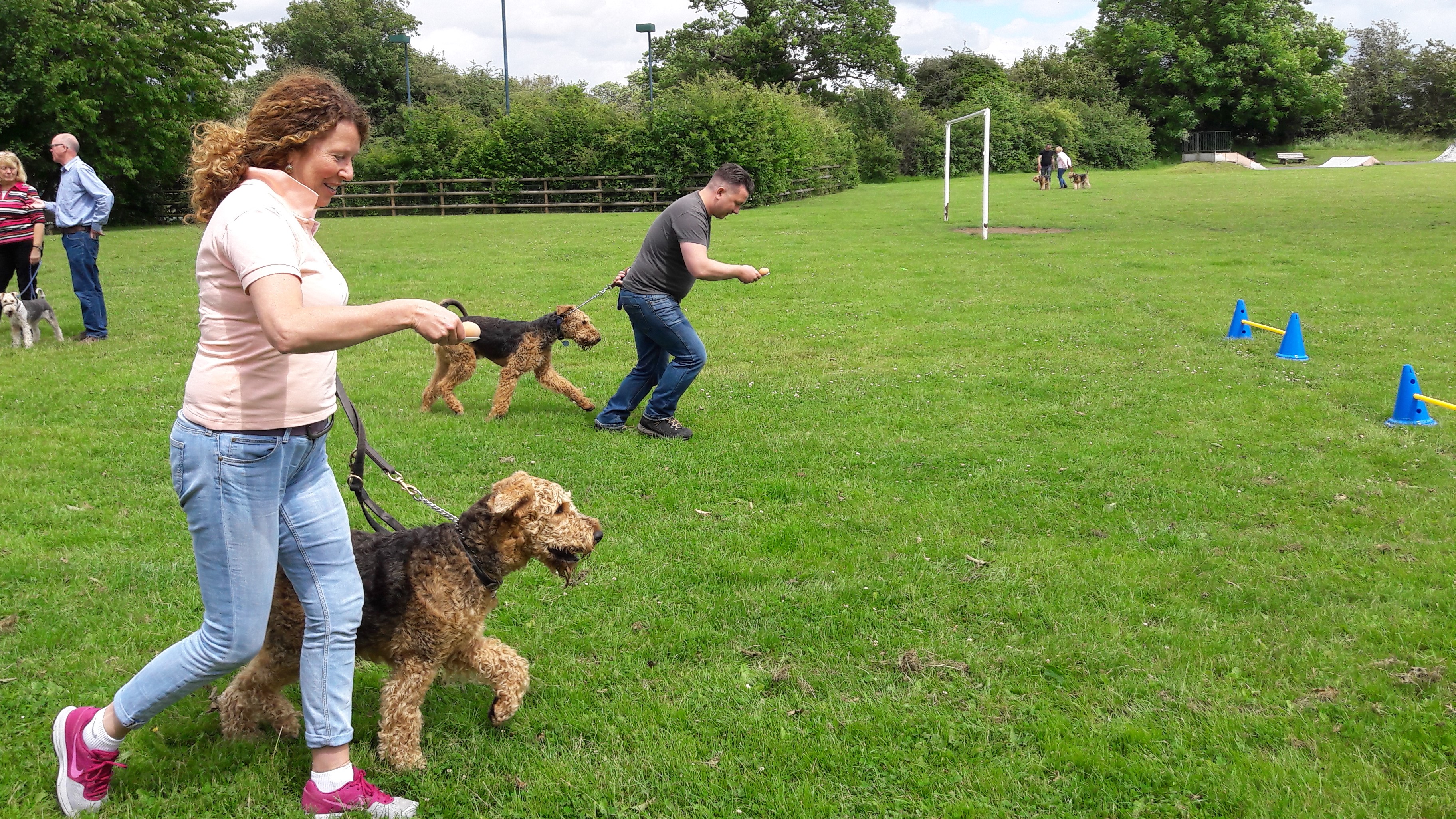 Taking part in the egg & spoon race at our summer fun day - winners Philip Hallam & Rufus on far side
THE LATE MR JOHN WILLETTS

MCATC President Mr John Willetts, of Tanworth Airedales sadly passed away in January 2017. John joined our committee in 1991 and served as Club Treasurer from 1992 to 2014, and was President of the Midland Counties Airedale Terrier Club at the time of his death. Please click here to read an obituary of John, written by his friend Martin Lockett of Jaideld Airedales.

PUPPY AWARENESS WEEK (PAW) - please visit the Kennel Club's Puppy Awareness Week pages to learn more about the best way to find a happy healthy puppy from a responsible breeder, and their campaign to end the cruel practice of puppy farming. If you are looking for an Airedale Terrier puppy, please always do your homework carefully and find a reputable breeder, preferably one registered with the Kennel Clubs Assured Breeder Scheme. Click here for more information.
SUBMISSION OF JUDGING CVS
If you judge Airedales and would like to be considered for inclusion on our judging list, then please submit your CV and complete a judging questionnaire via our Contacts Page
DOGS LEFT UNATTENDED IN CARS - an important reminder from the Kennel Club which is particularly timely during the summer months, but which is important throughout the year, as even on what may seem like cooler days cars can still heat up very quickly. Please click here to read The Kennel Club's press release and click here to view a very informative short video warning of the dangers of leaving dogs unattended in cars - entitled 'Don't Cook Your Dog'.
© Midland Counties Airedale Terrier Club 2017